Advantages of our internally lit windsock assemblies:
Visibility

Internally lit windsocks are vivid from a greater distance than traditional externally lit windsocks - from the sky and the ground, day and night. Our system eliminates stray reflective light that can distract pilots.

Efficiency

Internal lighting is up to 5 times more energy efficient than external windsock lighting.

Reliability

The 100 watt halogen bulb effectively lights the sock, and a second bulb provides back-up.

Service

We are proud of our fast, professional service. Orders will be filled quickly; guarantees will be honored; product parts will always be available. Though our products are continually upgraded, we ensure that parts stay consistent over time.
Our windsocks are constructed with 4.5oz/sq. yd polyurethane coated nylon, reinforced at the mouth with double thickness of PVC coated nylon, and triple stitched to Transport Canada Standards. Available in solid yellow, solid international orange or 5 band orange + white. We can also custom make windsocks to your specifications.
We also carry solid yellow windsocks for dangerous cargo yards and chlorine plants.
P. Wedge Co. Ltd. carries a complete line of airport windsock equipment. Our products include lighted swivels, baskets, windsocks, and poles (stationary, tilting, heavy duty, wall-mounted, log-mounted), and many other products.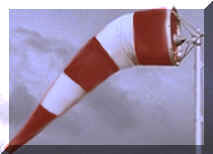 ©2003 P. Wedge Co. Ltd.